A side hustle is a way for students to earn additional income while balancing their academic responsibilities. It can provide valuable experience, financial independence, and the opportunity to develop new skills.
Here are several side hustle ideas for students, along with details on how to get started:
Freelancing: Freelancing allows students to utilize their skills and work on projects for clients. Some popular freelance opportunities include writing, graphic design, web development, social media management, and virtual assistance. Websites like Upwork, Fiverr, and Freelancer.com connect freelancers with clients seeking their services. Students can create profiles highlighting their skills and previous work, and they can bid on projects or receive direct offers from clients.
Tutoring: If you excel in a particular subject, tutoring can be a great side hustle. You can offer your tutoring services in person or online through platforms like Tutor.com or Wyzant. Advertise your services in local communities, schools, or college campuses. Building a good reputation and obtaining referrals from satisfied students can help you attract more clients.
Online Content Creation: If you have a talent for creating engaging content, consider starting a blog, YouTube channel, or podcast. Choose a niche that interests you, such as fashion, beauty, technology, gaming, or education. Consistently produce high-quality content and promote it through social media channels to grow your audience. Once you gain a substantial following, you can monetize your content through advertising, sponsored posts, brand partnerships, and merchandise sales.
Delivery Services: With the rise of food delivery and online shopping, becoming a delivery driver can be a flexible side hustle. Platforms like Uber Eats, DoorDash, Instacart, and Amazon Flex, Dunzo allow students to deliver food, groceries, and packages in their spare time. You can set your availability, work when it suits you, and earn money based on the number of deliveries you complete.
Handmade Crafts: If you have creative skills, consider making and selling handmade crafts. This could include items like jewelry, artwork, clothing, or home decor. Set up an online store on platforms like Etsy or Shopify to showcase and sell your products. Utilize social media platforms and local craft fairs to market your creations.
Pet Sitting/Dog Walking: If you're an animal lover, offering pet sitting or dog walking services can be a rewarding side hustle. Many pet owners are in need of reliable individuals to care for their pets while they are at work or away. Advertise your services in local communities, vet offices, or pet stores. You can also create profiles on websites like Rover or Wag to connect with pet owners seeking care for their furry friends.
Social Media Management: Many businesses and individuals require help managing their social media presence. Offer your services to create content, schedule posts, engage with followers, and analyze metrics. Develop a portfolio showcasing your social media skills and approach local businesses or reach out to individuals who may need assistance.
Event Planning: If you have excellent organizational skills and enjoy planning, consider offering event planning services. Help clients organize parties, weddings, conferences, or fundraisers. Start by planning events for friends or family members and expand your network through referrals.
Language Tutoring: If you are fluent in multiple languages, offer language tutoring services to individuals or small groups. You can teach conversational skills, grammar, or prepare students for language exams. Advertise your services in language schools, community centers, or online platforms.
Photography: If you have photography skills and own a decent camera, consider offering your services as a photographer. Capture events, portraits, or even product photography for local businesses. Create a portfolio showcasing your work and market yourself through social media and local directories.
Fitness Instruction: If you are passionate about fitness and have expertise in a specific area like yoga, pilates, or personal training, become a fitness instructor. You can offer classes at local gyms, community centers, or even host virtual classes through platforms like Zoom.
Mobile App or Web Development: If you have programming skills, offer your services to develop mobile apps or websites for businesses or individuals. Create a portfolio demonstrating your previous projects and market yourself on freelance platforms, developer forums, or local business networks.
Virtual Assistant: Many professionals and entrepreneurs require assistance with administrative tasks. Offer virtual assistant services, such as email management, appointment scheduling, data entry, or research. You can find virtual assistant opportunities on platforms like Upwork, Freelancer, or Remote.co.
Graphic Design: If you have design skills, offer graphic design services to clients. Create logos, business cards, flyers, social media graphics, or website banners. Build a portfolio showcasing your work and market yourself on freelance platforms or through local business networks.

Remember to consider your skills, interests, and available resources when choosing a side hustle. Adapt the ideas to suit your unique circumstances, and don't hesitate to explore other opportunities that align with your strengths and passions.
Also Visit this for Productivity: Productivity Playlist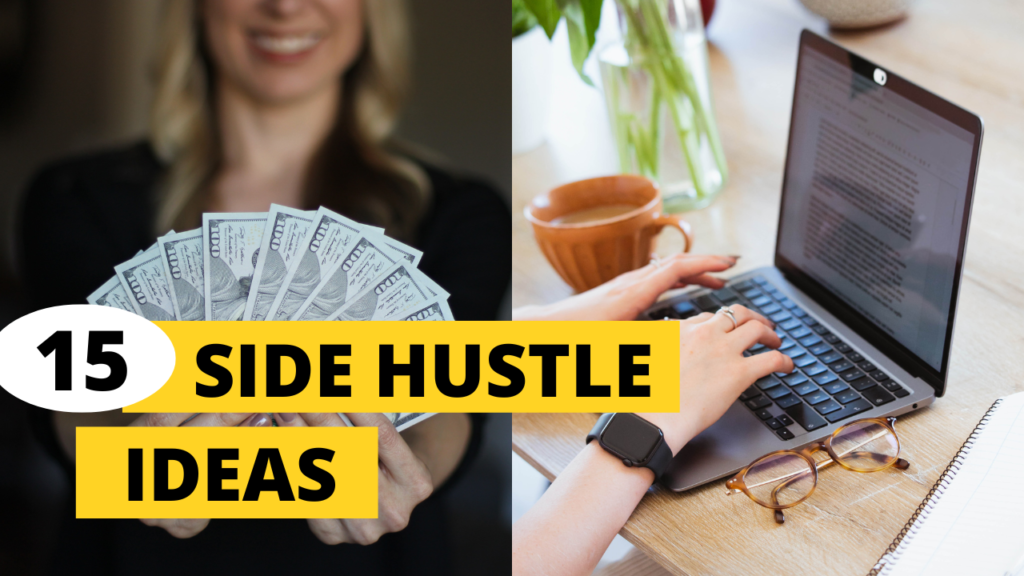 Also Read : How to Memorize anything for long?