The characteristics of educational sociology highlight its distinctive features and approaches in studying the social aspects of education.
Here are the key characteristics of educational sociology:
Interdisciplinary Nature: Educational sociology is an interdisciplinary field that draws upon theories, concepts, and methods from sociology, education, psychology, anthropology, and other social sciences. It combines sociological perspectives with educational research to understand the complex interactions between education and society.
Focus on Social Processes and Structures: Educational sociology examines the social processes and structures that shape education. It explores how social interactions, social institutions, and larger social structures influence educational systems, practices, and outcomes. It analyzes the impact of social factors such as social class, race, ethnicity, gender, and culture on educational processes and inequalities.
Macro and Micro Perspectives: Educational sociology considers both macro and micro levels of analysis. It investigates the broader social structures, policies, and institutions that shape education at the macro level, while also examining the micro-level interactions and dynamics within educational settings, such as classrooms and schools.
Emphasis on Social Inequalities: One of the central concerns of educational sociology is the examination of social inequalities in education. It investigates how social factors contribute to disparities in educational opportunities, resources, and outcomes. It explores how educational systems can reproduce or challenge social inequalities based on factors such as social class, race, ethnicity, gender, and other dimensions of social difference.
Critical Perspective: Educational sociology takes a critical perspective, challenging existing norms, assumptions, and power structures within education. It questions dominant ideologies, practices, and policies, aiming to uncover underlying social inequalities and power dynamics. It seeks to understand the role of education in maintaining or challenging social order and promoting social justice.
Empirical Research: Educational sociology employs empirical research methods to gather data and analyze educational phenomena. It uses both quantitative and qualitative research methods, such as surveys, interviews, observations, and statistical analyses. Empirical research helps generate evidence and insights into the social aspects of education.
Policy Relevance: Educational sociology seeks to inform educational policies, practices, and reforms. It provides evidence-based recommendations to address social inequalities, improve educational outcomes, and promote equity and social justice in education. It critically engages with educational policy debates and advocates for positive social change.
Comparative and International Perspective: Educational sociology incorporates a comparative and international perspective. It compares educational systems, policies, and practices across different societies and countries to understand similarities, differences, and best practices. This perspective enhances our understanding of the diverse ways in which education interacts with social contexts and cultural variations.
Overall, the characteristics of educational sociology reflect its interdisciplinary nature, focus on social processes and structures, emphasis on social inequalities, critical perspective, empirical research approach, policy relevance, and global outlook. These characteristics contribute to a comprehensive understanding of the social dimensions of education and inform efforts to create more equitable and effective educational systems.
Also Read : Sanskritization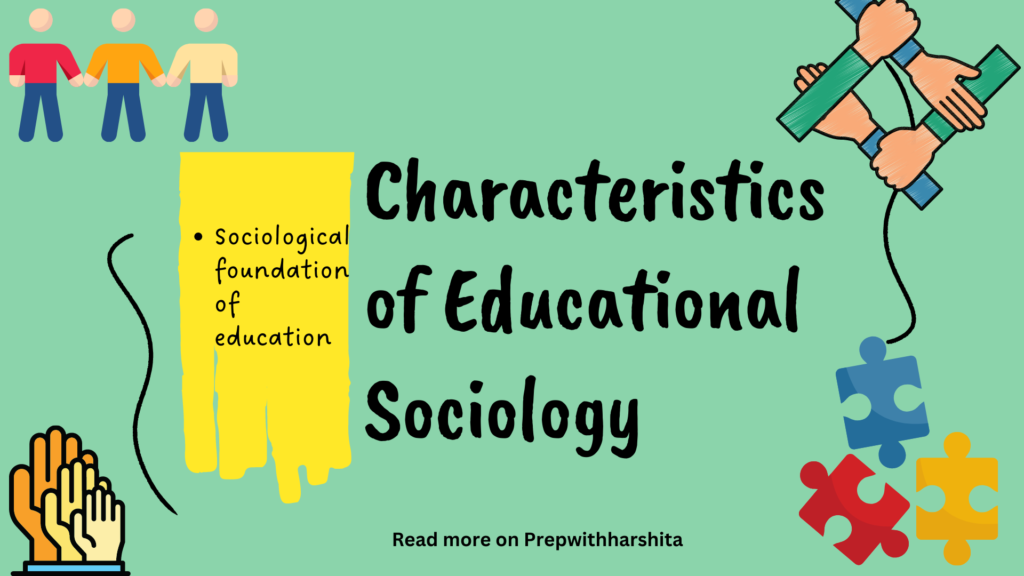 Also Visit: Prep with Harshita