Counseling services for students can be provided through face-to-face sessions or online platforms.
Here's a detailed explanation of each approach:
Face-to-Face Counseling Services:

Face-to-face counseling involves in-person sessions between the counselor and the student. It offers direct, personal interaction and allows for a deeper level of engagement and rapport building. Here are some key aspects of face-to-face counseling services:
a. Setting: Face-to-face counseling sessions typically take place in a designated counseling office or private room. This environment ensures privacy, confidentiality, and a safe space for open communication.
b. Nonverbal Cues: In face-to-face sessions, both the counselor and student can observe nonverbal cues such as body language, facial expressions, and tone of voice. These cues provide additional information and insights that contribute to the counseling process.
c. Personal Connection: Meeting in person allows the counselor and student to establish a personal connection and build trust more easily. This connection can enhance the therapeutic relationship and create a sense of comfort and security for the student.
d. Immediate Support: Face-to-face counseling provides immediate support and intervention for students in crisis or those who need immediate assistance. The counselor can offer in-person comfort, reassurance, and guidance during difficult times.
Online Counseling Services:

Online counseling, also known as e-counseling or teletherapy, involves providing counseling services through digital platforms or video conferencing. This approach allows for greater accessibility, convenience, and flexibility. Here are some key aspects of online counseling services:
a. Platforms: Online counseling sessions can take place through secure video conferencing platforms, instant messaging, or email. These platforms ensure privacy and confidentiality during communication.
b. Accessibility: Online counseling eliminates geographical barriers and allows students to access counseling services from anywhere, as long as they have a reliable internet connection. This is particularly beneficial for students in remote areas or those who have limited mobility.
c. Flexibility: Online counseling offers flexibility in scheduling sessions. Students can often choose a time that works best for them, considering their academic commitments and personal responsibilities.
d. Anonymity and Reduced Stigma: Online counseling provides a level of anonymity, which can reduce the stigma associated with seeking help. Some students may feel more comfortable expressing their concerns online rather than in-person, allowing for increased openness and honesty.
e. Visual and Verbal Cues: Although nonverbal cues may be limited in online sessions, video conferencing still allows for visual cues like facial expressions and body language, enhancing communication and understanding. Verbal cues, including tone of voice, are still available in online sessions.
It's important to note that both face-to-face and online counseling services have their advantages and considerations. The choice between the two approaches depends on factors such as student preferences, accessibility, the nature of the issue being addressed, and the resources available. Counselors may offer a combination of both approaches to cater to the diverse needs of students.
Also visit: Prep with Harshita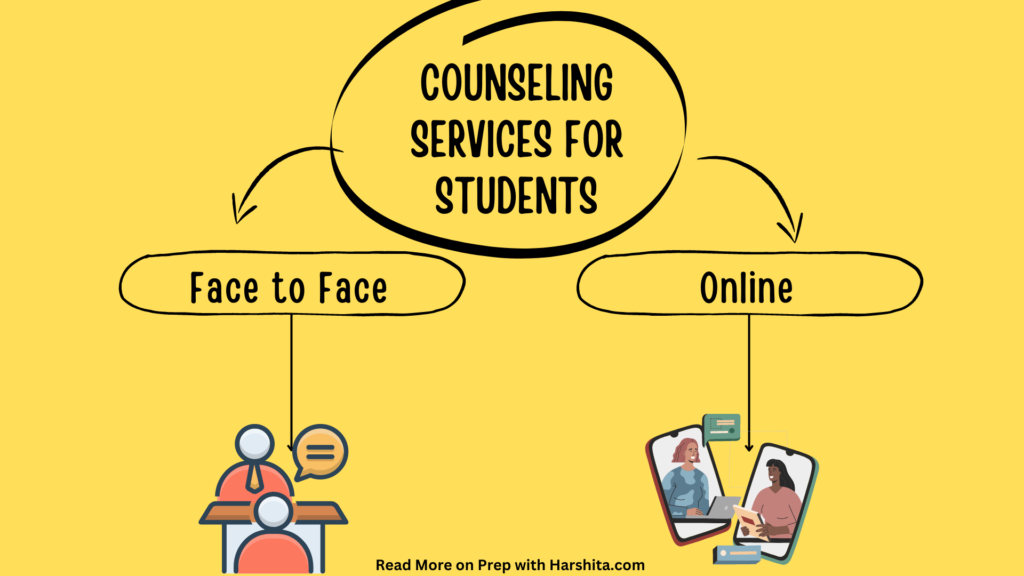 Also Read : Function of a Counsellor