Multilingualism in the classroom refers to the presence of students who speak multiple languages and come from diverse linguistic backgrounds. This is a common scenario in many educational settings around the world.
Understanding the meaning, challenges, and implications of multilingualism in the classroom is essential for teachers to create an inclusive and effective learning environment. Here's a closer look:
1. Meaning of Multilingualism in the Classroom:
Diverse Language Backgrounds: Multilingualism in the classroom means that students come from various linguistic backgrounds. They may speak different languages at home or have varying levels of proficiency in the language of instruction.
Language Diversity: In such classrooms, there may be a mix of languages spoken, and students may be bilingual, trilingual, or more.
Cultural Diversity: Multilingual classrooms often come with cultural diversity, as language and culture are closely linked. Students bring their cultural perspectives, traditions, and values to the classroom.
2. Challenges of Multilingualism in the Classroom:
Language Barriers: Teachers may face challenges in effectively communicating with students who have limited proficiency in the language of instruction. This can hinder comprehension and participation.
Differentiated Instruction: Meeting the diverse language needs of students can be challenging. Teachers must adapt their teaching methods and materials to accommodate various language levels.
Assessment: Designing fair assessments that accurately measure students' knowledge and skills while considering language barriers can be complex.
Cultural Sensitivity: Teachers need to be culturally sensitive and avoid bias or discrimination in their teaching practices.
Resource Constraints: Limited resources for language support, such as bilingual materials or language specialists, can hinder effective teaching.
3. Implications for Teachers:
Cultural Competence: Teachers should develop cultural competence to understand and respect the diverse backgrounds of their students.
Differentiation: Teachers must employ differentiated instruction to cater to students' varying language levels and learning styles.
Language Support: Providing language support through scaffolding, visual aids, and peer assistance can help students understand and participate in the class.
Collaboration: Collaborating with language specialists or bilingual educators can be beneficial for addressing language challenges.
Inclusivity: Creating an inclusive classroom environment where all students feel valued and included is crucial.
Professional Development: Teachers should seek professional development opportunities to enhance their skills in teaching multilingual learners.
Also Read: Process of Counseling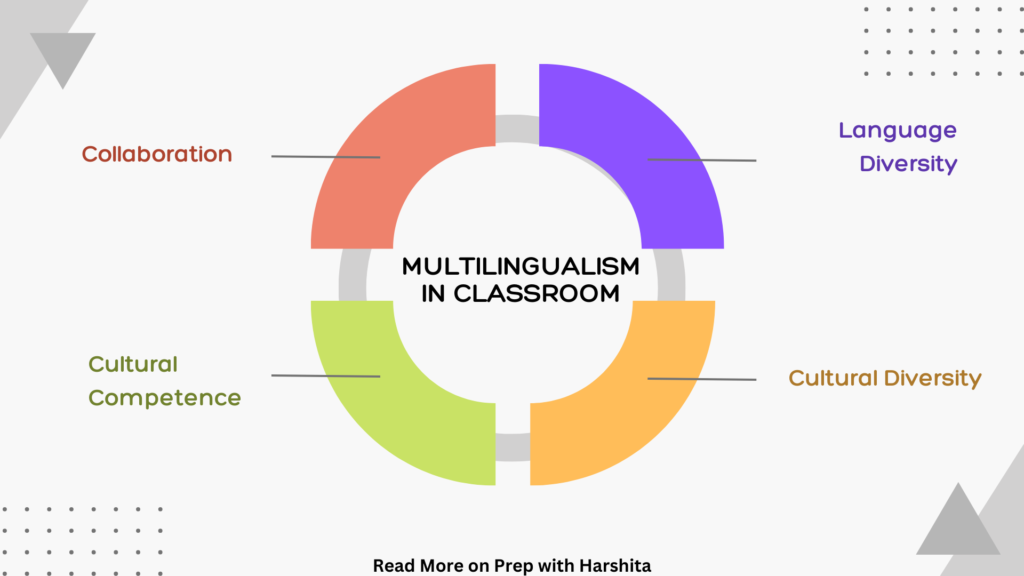 Also Visit: Prep with Harshita