Selecting and implementing work education programs in schools involves considering several criteria to ensure their success and effectiveness.

The following criteria should be taken into account when choosing work education programs for schools:

Relevance to Student Interests and Career Goals: Work education programs should align with the interests and career aspirations of the students. Choose programs that provide opportunities for students to explore and develop skills in fields they are genuinely interested in.

Alignment with Local Job Market Needs: Assess the local job market and identify areas with high demand for skilled workers. Select work education programs that address these needs, as this can lead to better job placement opportunities for students.

Curriculum Quality and Alignment: Evaluate the quality and rigor of the work education curriculum. Ensure that it aligns with educational standards and provides a well-rounded educational experience that integrates both academic and practical learning.

Qualified Instructors and Staff: Qualified instructors and support staff are crucial for the success of work education programs. Choose educators with relevant industry experience and the ability to effectively teach practical skills.

Availability of Resources and Facilities: Ensure that the school has the necessary resources, equipment, and facilities to support work education programs. These resources should be up-to-date and aligned with industry standards.

Safety Measures and Compliance: Safety is paramount in work education programs. Schools should adhere to safety regulations and provide a safe learning environment for students participating in practical activities, such as workshops or laboratories.

Potential for Collaboration: Consider the potential for collaboration with local businesses, industries, and trade associations. Partnerships can provide valuable resources, internships, and job opportunities for students.

Measurable Outcomes and Assessment: Establish clear objectives and measurable outcomes for work education programs. Implement assessments to track student progress and program effectiveness.

Sustainability and Funding: Consider the long-term sustainability of work education programs. Secure funding sources and resources to ensure the continuity and growth of these programs.

Legal and Regulatory Compliance: Ensure that the work education programs comply with local, state, and national educational regulations and standards.
Also Visit: Prep with Harshita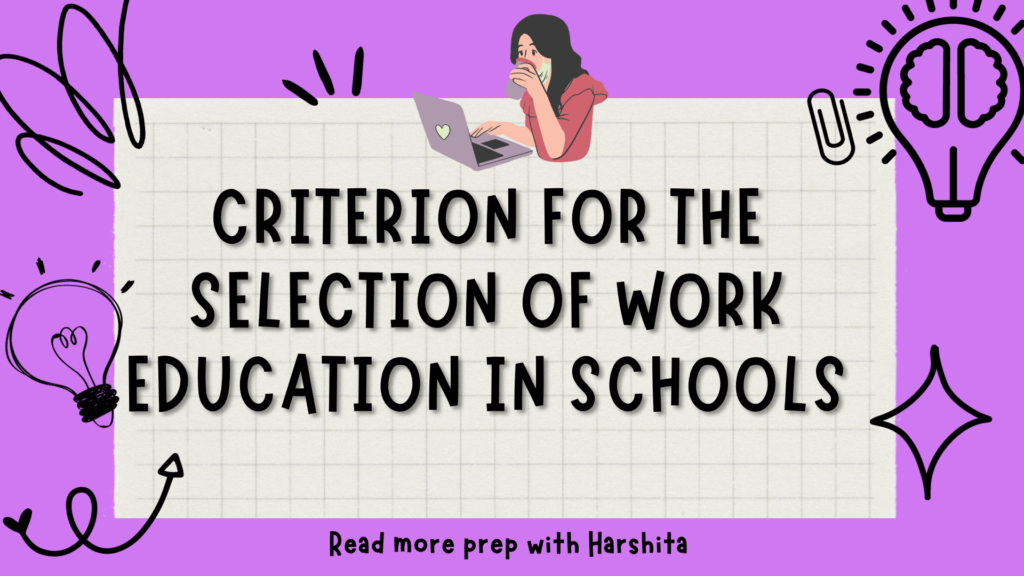 Also Read: Vertical Mobility of School Teacher