Schools play a crucial role in inculcating national and secular values in children.
Here are some ways in which schools contribute to this process:
Education on civic values: Schools provide formal education on civic values, including respect for the constitution, rule of law, democratic principles, and human rights. Students learn about their rights and responsibilities as citizens, promoting a sense of national identity and unity.
Cultural diversity and tolerance: Schools are melting pots of diverse cultures and backgrounds. By embracing diversity, schools foster an environment that promotes understanding, empathy, and tolerance among students. They teach students to appreciate different religions, languages, and traditions, fostering a spirit of inclusivity.
History and social studies curriculum: Schools include subjects like history and social studies, which teach students about their country's past, including its struggles, achievements, and cultural heritage. By understanding their nation's history, students develop a sense of pride and patriotism.
National symbols and celebrations: Schools often organize events and celebrations related to national holidays, flag ceremonies, and national anthems. These activities create a sense of belonging and attachment to the nation, helping students develop loyalty and respect towards their country.
Ethical and moral education: Schools promote ethical and moral values, such as honesty, integrity, empathy, and fairness. These values are essential for building a responsible citizenry and ensuring a just and equitable society.
Interfaith and intercultural dialogue: Schools encourage dialogue and interaction among students from different religious, ethnic, and cultural backgrounds. This fosters understanding, breaks stereotypes, and promotes harmony among diverse communities.
Role modeling: Schools play a vital role in shaping a child's behavior and attitudes. Teachers and staff act as role models, demonstrating values such as respect, fairness, and inclusivity. Positive interactions with teachers and peers create an environment conducive to imbibing national and secular values.
Extra-curricular activities: Schools provide various opportunities for students to engage in extra-curricular activities that promote teamwork, cooperation, and sportsmanship. These activities foster social skills, respect for others, and a sense of collective identity.
It's important to note that while schools have a significant influence, the family, community, and broader society also play crucial roles in shaping a child's values. Collaborative efforts between schools, families, and communities are necessary to ensure the effective inculcation of national and secular values in children.
Also Visit: Prep with Harshita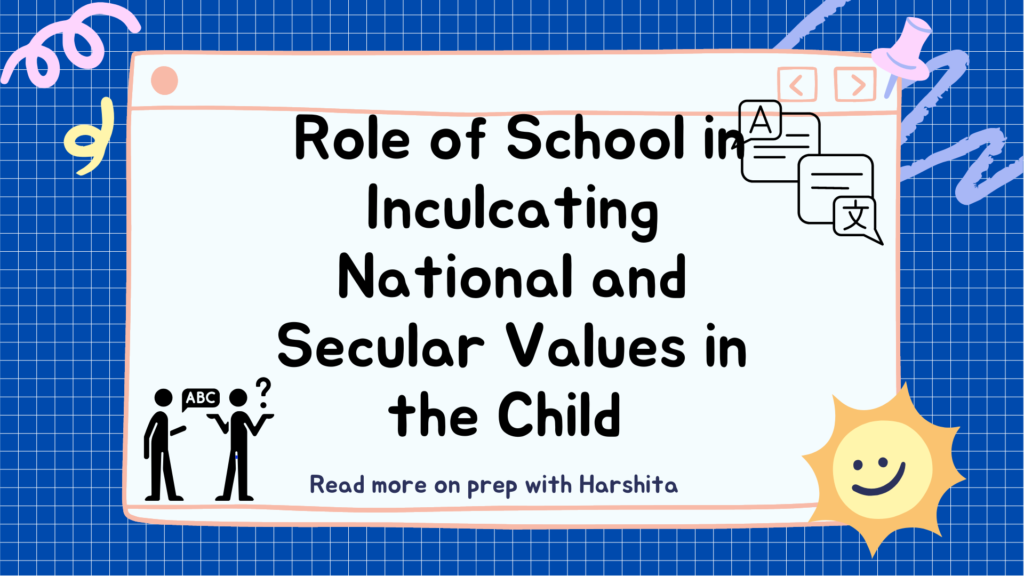 Also Read: Reflective Teaching