An alternative to disciplinarity in the context of academic knowledge is interdisciplinary or transdisciplinary approaches. While disciplinarity focuses on specialized knowledge within a specific field of study, interdisciplinary and transdisciplinary approaches encourage collaboration and integration of knowledge across multiple disciplines.
Here are some details about these alternatives:
Interdisciplinary Approach: Interdisciplinary approaches involve combining insights, theories, methodologies, and perspectives from different disciplines to address complex research questions or problems. It goes beyond the boundaries of a single discipline and encourages scholars to work together to generate a more comprehensive understanding of a particular topic. Interdisciplinary research often requires effective communication, cooperation, and synthesis of diverse disciplinary perspectives.
Key features of interdisciplinary approaches include:
Integration of Knowledge: Interdisciplinary approaches aim to integrate knowledge from different disciplines to provide a more holistic understanding of a subject matter. This integration may involve combining theories, methods, data, or concepts from multiple disciplines.
Collaborative Research: Interdisciplinary research often involves collaboration among scholars from various disciplines. Researchers bring their unique expertise and perspectives to work together on a shared research question, fostering cross-disciplinary dialogue and cooperation.
Transcending Boundaries: Interdisciplinary approaches challenge traditional disciplinary boundaries and encourage scholars to think beyond their own field of study. This enables the exploration of complex phenomena that cannot be adequately addressed by a single discipline alone.
Bridging Gaps: Interdisciplinary approaches aim to bridge gaps between disciplines and create connections between different bodies of knowledge. By drawing on diverse perspectives, interdisciplinary research can provide new insights, innovative solutions, and a broader understanding of complex issues.
Transdisciplinary Approach: Transdisciplinary approaches take interdisciplinary collaboration a step further by involving stakeholders from outside academia, such as practitioners, policymakers, and community members. Transdisciplinary research seeks to address real-world problems and generate actionable knowledge that can be applied to societal challenges.
Key features of transdisciplinary approaches include:
Collaboration with Stakeholders: Transdisciplinary research involves active engagement and collaboration with stakeholders from various sectors. These stakeholders contribute their practical expertise, knowledge, and perspectives, ensuring the research is relevant, contextualized, and useful for addressing societal issues.
Co-Creation of Knowledge: Transdisciplinary research values the co-creation of knowledge, where researchers and stakeholders work together throughout the research process. This collaborative approach fosters mutual learning, shared decision-making, and the integration of diverse perspectives.
Action-Oriented Research: Transdisciplinary research aims to produce actionable knowledge and tangible outcomes that can drive positive change in society. It emphasizes the application of research findings and the translation of knowledge into practical solutions and policies.
Reflexivity and Context Sensitivity: Transdisciplinary research acknowledges the importance of reflexivity and context sensitivity. Researchers critically reflect on their own assumptions, biases, and values, while also considering the social, cultural, and political contexts in which the research takes place.
Both interdisciplinary and transdisciplinary approaches offer alternatives to disciplinarity by encouraging collaboration, integration, and broader perspectives. These approaches recognize the complexity of real-world problems and the need for diverse expertise to tackle them effectively.
By transcending disciplinary boundaries and fostering collaboration, interdisciplinary and transdisciplinary research can lead to innovative solutions, interdisciplinary understanding, and meaningful societal impact.
Also Read : Meaning of Academic Discipline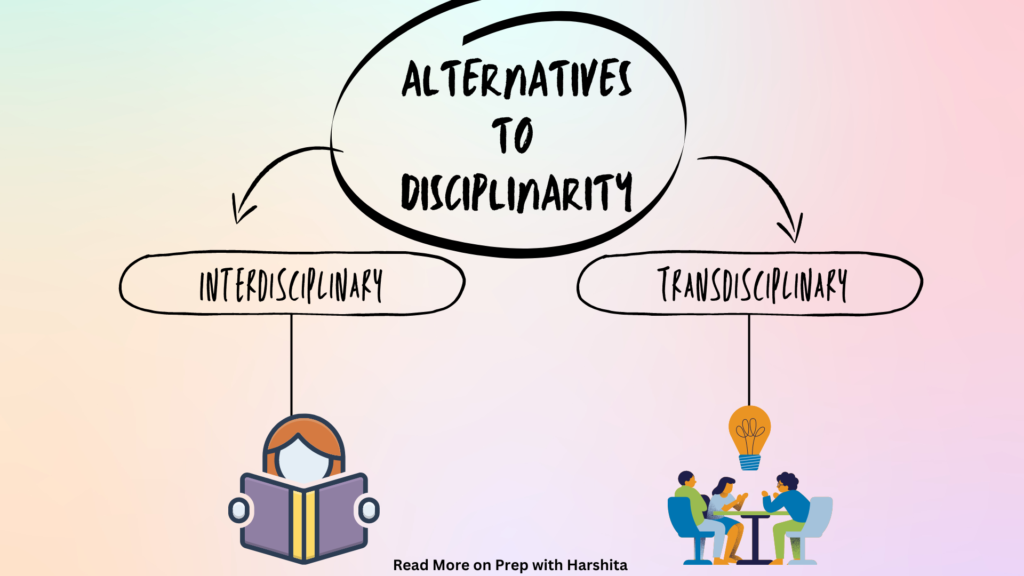 Also Visit : Prep with Harshita