Research on teaching has been influenced by various paradigms and frameworks, each offering unique perspectives and insights into the study of educational practices. Gagne, Doyle, and Shulman are three prominent educational researchers who have contributed significantly to the field of teaching and learning. Each of them has proposed distinct paradigms for understanding and researching teaching.

Here's an overview of their respective paradigms:
Robert Gagne's Paradigm: Robert Gagne was an influential educational psychologist known for his work on instructional design and learning theories. His paradigm for research on teaching emphasizes the importance of systematic instructional design. Key elements of Gagne's paradigm include:


Conditions of Learning: Gagne's framework focuses on identifying the conditions necessary for effective learning to occur. He categorized different types of learning outcomes, such as intellectual skills, cognitive strategies, and attitudes, and suggested that different conditions (e.g., motivation, feedback, and practice) are required for each type.

Instructional Design: Gagne emphasized the need for systematic instructional design that aligns with specific learning objectives. He proposed a series of events, often referred to as the "Nine Events of Instruction," which includes gaining attention, informing learners of the objective, presenting the stimulus, providing guidance, eliciting performance, providing feedback, assessing performance, enhancing retention and transfer, and assessing transfer.

Behaviorism: Gagne's paradigm is rooted in behaviorism, which focuses on observable behaviors and the use of reinforcement and feedback to shape those behaviors.


Patrick W. Doyle's Paradigm:Patrick W. Doyle, an educational researcher, developed a paradigm that focuses on the practical and contextual aspects of teaching and learning. His paradigm is often associated with the concept of "teaching as a moral craft." Key elements of Doyle's paradigm include:


Practical Knowledge: Doyle argued that effective teaching is not just about following prescribed methods but also involves practical wisdom and judgment. Teachers should be able to adapt their teaching to the unique needs of their students and the context of the classroom.

Responsive Teaching: Doyle emphasized the importance of responsiveness to students' needs and interests. Effective teachers are attuned to their students and can adjust their instruction accordingly.

Classroom Management: Doyle's paradigm recognizes that effective classroom management and discipline are essential for creating a conducive learning environment.


Lee Shulman's Paradigm:Lee Shulman is known for his work on pedagogical content knowledge (PCK) and the development of teachers' expertise. His paradigm focuses on understanding the specialized knowledge and skills that effective teachers possess. Key elements of Shulman's paradigm include:


Pedagogical Content Knowledge (PCK): Shulman introduced the concept of PCK, which refers to the unique knowledge that teachers have about how to teach specific content to their students. PCK involves an understanding of students' prior knowledge, misconceptions, and effective teaching strategies.

Reflective Practice: Shulman emphasized the importance of reflective practice among teachers. Effective teachers engage in ongoing reflection on their teaching methods, student learning, and the impact of their instructional decisions.

Expertise in Teaching: Shulman's paradigm acknowledges that teaching is a complex profession that requires the development of expertise over time. Expert teachers possess a deep understanding of their subject matter, pedagogical techniques, and their students.
Also Read: Vertical Mobility of a School Teacher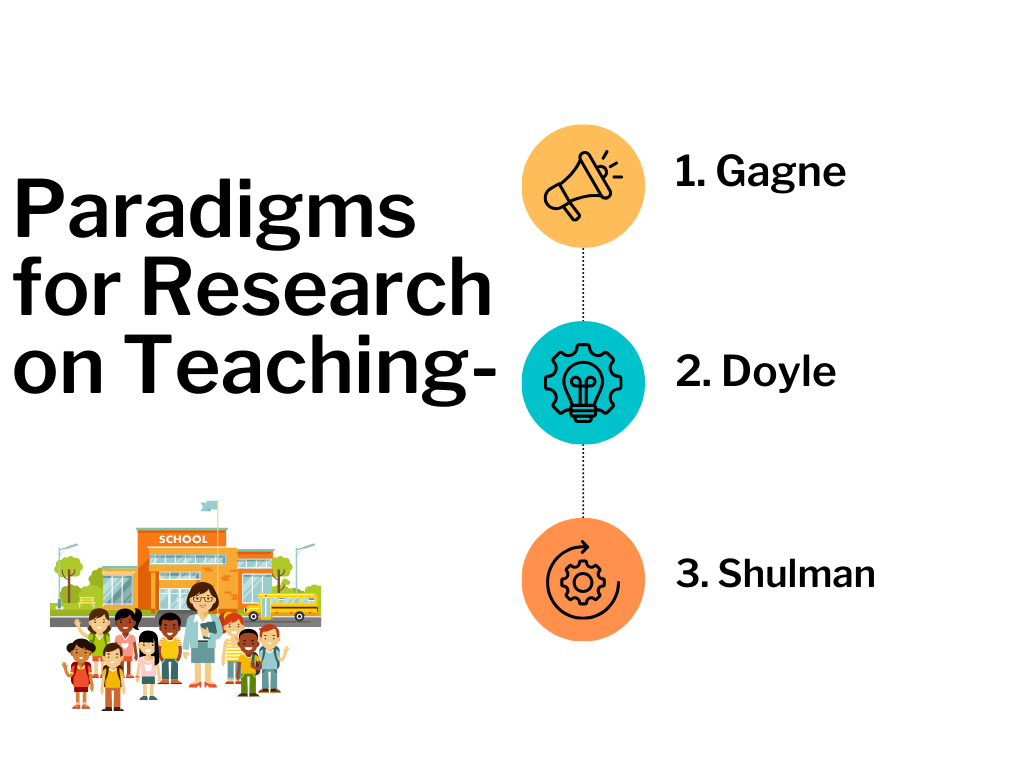 Also Visit: Prep with Harshita