ICT (Information and Communication Technology) can play a significant role in innovation in examination administration and execution.
Here are some ways in which ICT can be utilized to enhance the examination process:
Online Registration and Enrollment: ICT can be used to facilitate online registration and enrollment processes. Students can submit their applications and necessary documents electronically, reducing paperwork and manual processing.
Automated Examination Scheduling: ICT tools can automate the examination scheduling process, taking into account factors such as room availability, invigilator availability, and student preferences. This can streamline the scheduling process and minimize conflicts.
Computerized Test Generation and Delivery: ICT enables the creation and delivery of computer-based tests. Test generation software can generate randomized questions from a question bank, ensuring fairness and reducing the risk of cheating. Students can take tests on computers, which allows for instant grading and feedback.
Remote Proctoring: ICT enables the implementation of remote proctoring solutions, allowing students to take exams from their own location while being monitored remotely. This can enhance accessibility, convenience, and security while reducing the need for physical examination centers.
Data Analytics for Performance Evaluation: By collecting and analyzing exam data, ICT can provide valuable insights into student performance. Data analytics tools can identify patterns, trends, and areas of improvement, allowing educators to make data-driven decisions for curriculum development and student support.
Secure Storage and Distribution of Results: ICT systems can securely store examination results and provide a convenient and efficient means of result distribution to students. This eliminates the need for manual result processing and allows for immediate access to results.
Collaboration and Communication Platforms: ICT tools such as online learning management systems and communication platforms enable seamless collaboration between instructors, students, and administrators. These platforms can facilitate discussions, share resources, and provide timely updates about examination-related matters.
Accessibility and Inclusivity: ICT can help create a more inclusive examination environment. Features like screen readers, text-to-speech, and adjustable font sizes can assist students with disabilities. Online platforms also offer flexibility in terms of timing and location, accommodating diverse needs.
Security Measures: ICT can incorporate robust security measures to prevent cheating and maintain the integrity of the examination process. Techniques like biometric authentication, plagiarism detection software, and secure online platforms help ensure fair evaluations.
Feedback and Evaluation: ICT tools can automate the process of collecting feedback from students about the examination experience. Online surveys and feedback forms can provide valuable insights for continuous improvement.
It is important to note that while ICT can bring numerous benefits to examination administration and execution, proper planning, infrastructure, and security measures must be in place to ensure the effectiveness, reliability, and integrity of the system.
Also Visit: Prep with Harshita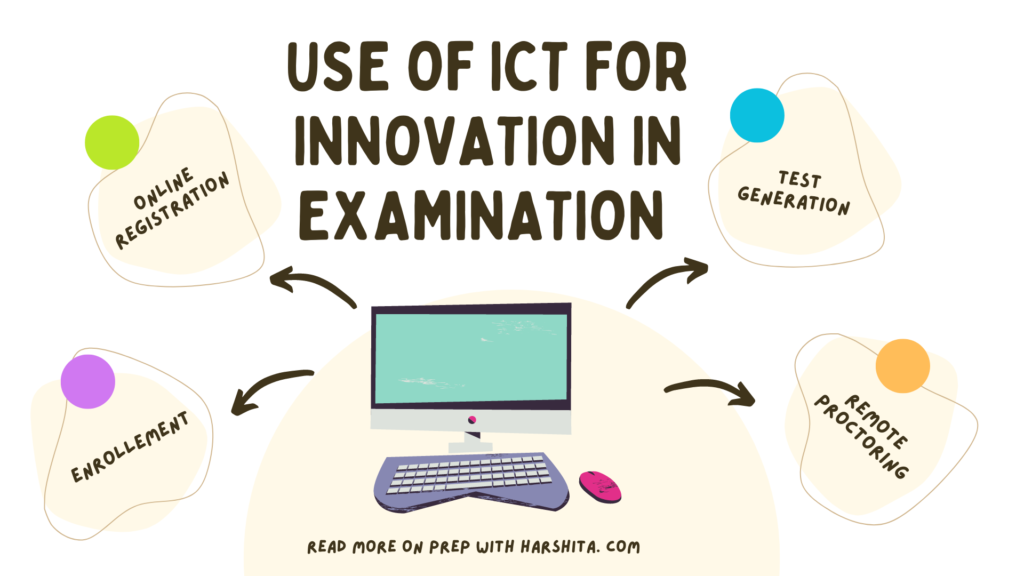 Also Read: Reliability