Contestation of knowledge refers to the questioning, challenging, or critical examination of established knowledge, beliefs, theories, or claims. It involves the act of challenging the validity, reliability, or accuracy of existing knowledge and seeking to explore alternative perspectives or interpretations.
It is an important aspect of intellectual growth and the advancement of society. It is through questioning and challenging existing knowledge that new ideas, theories, and discoveries emerge. Scientists, philosophers, scholars, and thinkers throughout history have engaged in the contestation of knowledge, leading to paradigm shifts, revolutions in thought, and the progression of various fields.
There are several reasons why it occurs:
Epistemic uncertainty: Knowledge is often based on available evidence, interpretations, and assumptions. As new information emerges or alternative perspectives are considered, the certainty of existing knowledge may be questioned.
Paradigm shifts: Sometimes, a new theory or concept arises that challenges the existing paradigm or dominant framework of understanding. This can lead to significant contestation as proponents of the new ideas challenge the established knowledge and its proponents.
Cultural and social factors: Different cultures, societies, and communities may have their own knowledge systems, beliefs, and values. When these different perspectives come into contact or conflict, contestation of knowledge can arise as different groups challenge each other's claims or seek to assert their own knowledge.
Advancements in technology and methodology: Technological advancements and methodological improvements can enable new ways of observing, measuring, or analyzing phenomena.
Critical inquiry and progress: Contestation is also driven by the spirit of critical inquiry and the pursuit of progress. Scientists, scholars, and thinkers are motivated to question existing knowledge, challenge assumptions, and seek better explanations or understandings of the world.
It is important to note that contestation of knowledge does not necessarily mean that established knowledge is always incorrect or invalidated. Instead, it serves as a means to continually refine and improve our understanding of the world. Through contestation, knowledge can evolve, adapt, and become more robust, allowing for a deeper comprehension of various phenomena and fostering intellectual growth and innovation.
Also Visit: Prep with Harshita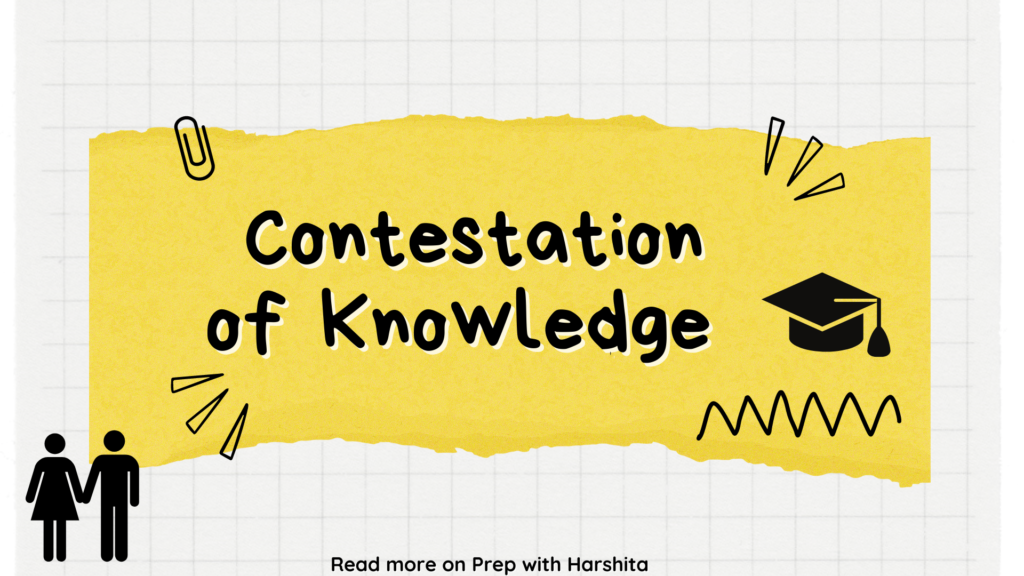 Also Read : Validation of Knowledge