There are many types of knowledge. Based on the way, knowledge is obtained; it can be classified under three parts.
Types of Knowledge :
Posteriori Knowledge: Posteriori knowledge, also known as empirical knowledge or knowledge "from experience," refers to knowledge that is gained through direct observation, experience, or empirical evidence. It is based on information obtained through the senses or through the collection and analysis of data. Posteriori knowledge is specific to particular instances or observations and is often contingent on the context in which it is acquired. For example, knowing that water boils at 100 degrees Celsius is posteriori knowledge because it is derived from observations and experiments.
Priori Knowledge: Priori knowledge, also known as a priori knowledge or knowledge "prior to experience," refers to knowledge that is independent of empirical evidence or sensory experience. It is based on reasoning, deduction, and logical analysis. Priori knowledge is considered to be universal and necessary, meaning it holds true in all possible instances. It is not contingent on particular observations or specific experiences. For example, knowing that all bachelors are unmarried is a priori knowledge because it is based on the definition of the term "bachelor" and does not require empirical verification.
Experiential Knowledge: Experiential knowledge, also known as practical knowledge or knowledge "by experience," is the knowledge that is gained through direct personal involvement and engagement with the world. It is acquired through hands-on experiences, experimentation, and reflective practice. Experiential knowledge is often subjective and context-dependent, influenced by individual perceptions, emotions, and interpretations. It is deeply rooted in personal experiences, including both successes and failures, and can be tacit or difficult to articulate explicitly. For example, a surgeon's knowledge of surgical techniques and procedures is largely based on experiential knowledge gained through years of practice and actual surgeries.
Also Read: Tyler Model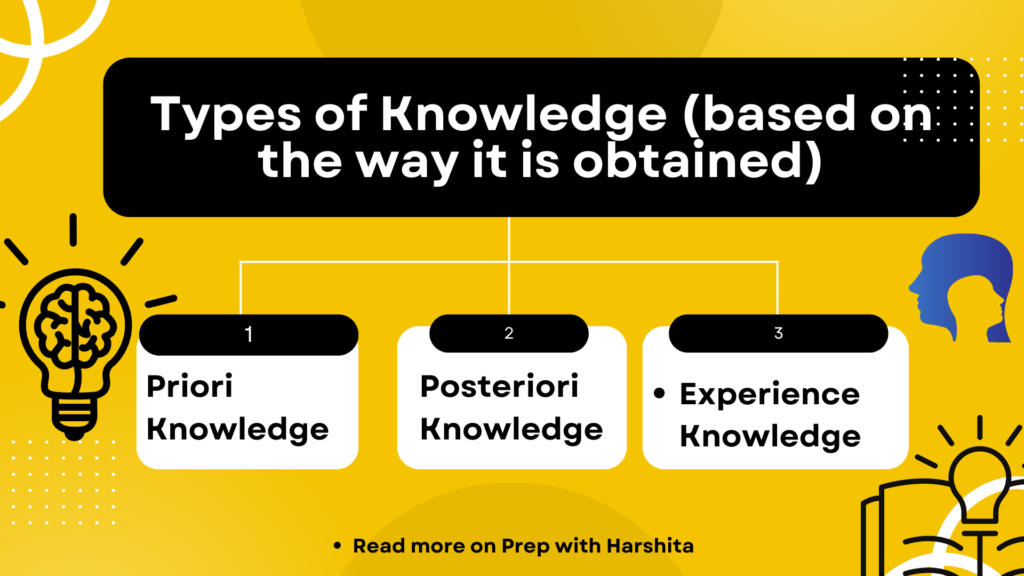 Also Visit: Prep with Harshita