Schools play a crucial role in society by serving several functions and maintaining various relationships with the broader community. These functions and relationships are integral to the development of individuals and the well-being of society as a whole.
Let's look at the various aspects :
1. Education and Skill Development:
Primary Function: The primary function of schools is to provide education and facilitate the acquisition of knowledge and skills by students.
Societal Impact: Education equips individuals with the knowledge and skills needed to become productive members of society. A well-educated populace can contribute to economic growth, innovation, and social progress.
2. Socialization and Character Development:
Primary Function: Schools also serve as social institutions where students learn societal norms, values, and ethical behavior.
Societal Impact: Schools help shape the character and social skills of students, preparing them to interact positively in society and uphold shared values.
3. Cultural Transmission:
Primary Function: Schools transmit cultural heritage, language, and traditions to younger generations.
Societal Impact: This helps preserve and pass down cultural identity, fostering a sense of continuity and belonging within a society.
4. Community Hub:
Primary Function: Schools often function as community centers, providing a space for meetings, events, and activities outside of regular school hours.
Societal Impact: Schools contribute to the social fabric of a community, promoting a sense of togetherness and a platform for community engagement.
5. Social Mobility:
Primary Function: Schools can act as equalizers by offering opportunities for social mobility and advancement through education.
Societal Impact: Education can reduce social inequalities and provide individuals with the chance to improve their socio-economic status, which in turn benefits the broader society.
6. Research and Innovation:
Primary Function: Many educational institutions, particularly universities, engage in research and innovation, contributing to advancements in various fields.
Societal Impact: Research conducted at educational institutions can lead to technological advancements, scientific discoveries, and solutions to societal challenges.
7. Civic Engagement and Citizenship:
Primary Function: Schools educate students about their rights and responsibilities as citizens and encourage civic engagement.
Societal Impact: Informed and engaged citizens are essential for a functioning democracy, as they participate in the decision-making process and contribute to the well-being of their communities and nations.
8. Economic Impact:
Primary Function: Schools produce a skilled workforce that contributes to economic development.
Societal Impact: An educated workforce enhances a nation's competitiveness, productivity, and economic growth.
9. Social Cohesion:
Primary Function: Schools can promote social cohesion by bringing together students from diverse backgrounds and fostering tolerance and understanding.
Societal Impact: This contributes to a more harmonious and integrated society by reducing prejudice and promoting inclusivity.
Also Visit: Prep with Harshita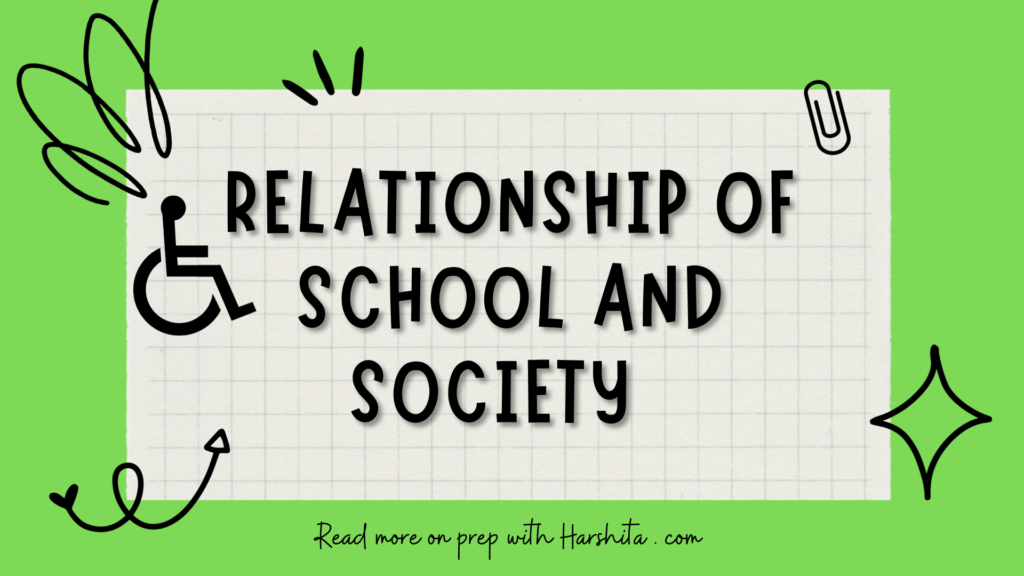 Also Read: Role of head in a School